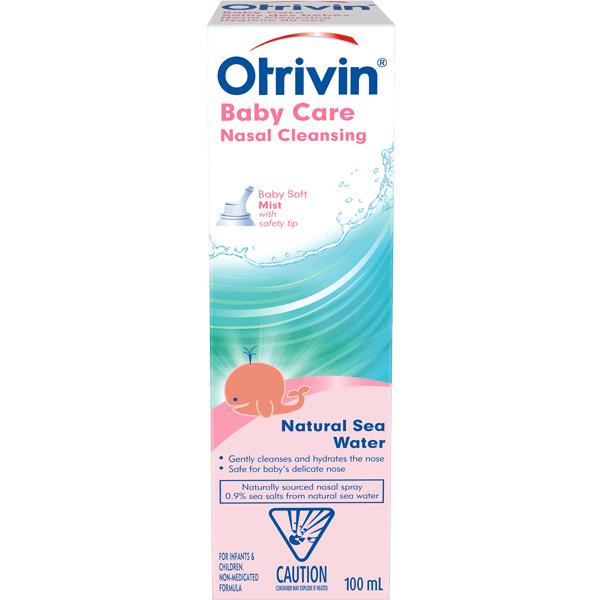 OTRIVIN BABY CARE
Natural Sea Water
Nasal Cleansing
Keep your baby breathing freely the natural way. This 100% natural sea water solution helps keep your baby's nasal cavities clear and hydrated.
Otrivin Baby Care
0.9% sea salts from natural sea water
Otrivin Natural Sea Water for Babies is an effective way to help keep nasal cavities clear and hydrated, allowing your baby to breathe freely.
Otrivin Baby Care is a 100% natural, preservative-free, isotonic sea water solution that helps cleanse excessive mucous accumulation from the nasal passages, caused by a cold, allergies and upper respiratory infections.

Specially designed for babies, the applicator nozzle has an oversized safety tip that prevents it from being inserted too deep into the nose, avoiding discomfort and damage to the nasal lining. It produces a baby-soft spray with ultra-fine micro drops that effectively clear out mucous and is made for a baby's delicate nose.

For infants and children.
It is recommended to seek medical advice before using on infants less than 2 weeks old.

1. Lay the child on its back with its head tilted towards the right.
2. Insert the applicator in the left (upper) nostril and spray a short burst to cleanse the nostril.
3. Follow the same procedure in the right (upper) nostril after turning the child's head to the left.
4. After use, clean and dry the nozzle and put the protective cap back on.


Suggested use is 1-2 times per day, or as often as needed.
Children should be supervised when using this product.
If cold symptoms persist or worsen, consult your doctor or pharmacist.
To avoid possible spread of infections, only one person should use each pack.

When to use

Otrivin Baby Care is designed to help babies breathe freely by gently cleansing and unblocking stuffed up noses.

Precautions

Contents under pressure. Do not place in hot water or near radiators, stoves or other sources of heat. Do not puncture or incinerate container or store at temperatures over 50° C.

Further information

Keep out of reach of children.
Do not use product if expired.
Do not use if plastic cap seal is missing or broken.

Composition

Sea water and purified water.