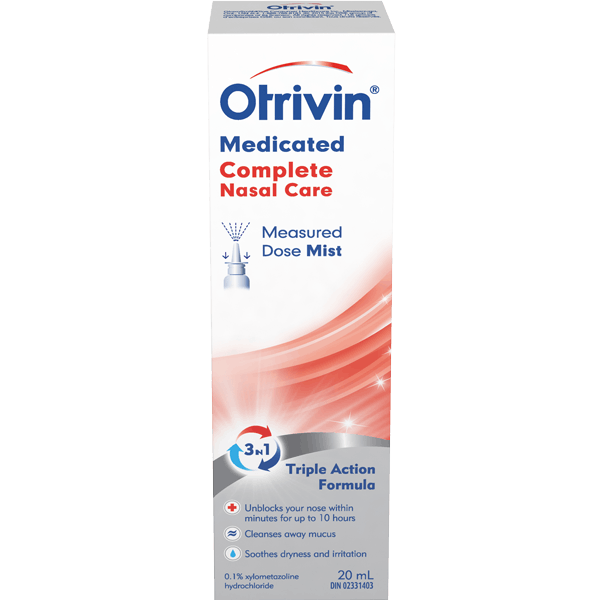 OTRIVIN MEDICATED COMPLETE NASAL CARE
Triple action
Nasal spray
Our Triple Action Formula includes a decongestant for fast & long-lasting relief up to 10 hours, saline to wash away mucus and moisturizers to soothe your nose.
Otrivin Medicated Complete Nasal Care
Triple Action Formula
0.1% Xylometazoline Nasal Spray
Otrivin Medicated Complete Nasal Care starts to unblock your nose within minutes and is long lasting for up to 10 hours of relief.
Otrivin Medicated Complete Nasal Care contains the active ingredient, Xylometazoline hydrochloride, which works directly on the blood vessels that line your nose. By working directly on the affected area, it quickly and effectively reduces swelling, drains your sinuses and relieves congestion.

The Triple Action Formula also contains saline to cleanse away mucus and moisturizers to soothe dryness and irritation. It also relieves your runny nose.

For adults and children 12 years or older.
Do not use in children under 12 years of age.

1. Blow your nose prior to administering.
2. Hold the bottle upright with your thumb under the base and nozzle between your first and second fingers.
3. Before using for the first time, prime the pump by spraying several times into the air, until a fine mist appears.
4. With your head tilted slightly backward, spray 2 times into each nostril.
5. Breathe deeply.
6. Replace cap after use.

May be used every 8-10 hours.
Do not exceed 3 applications daily or exceed the recommended dosage.

If cold symptoms persist or worsen, consult your doctor or pharmacist. To avoid possible spread of infections, only one person should use each pack.

When to use

Otrivin Medicated Complete Nasal Care Triple Action Formula is designed for the temporary relief of nasal and sinus congestion due to a cold, allergies and hay fever.


Precautions

Frequent or prolonged use may cause nasal congestion to recur or worsen. Do not use for longer than 3 days and if symptoms persist, consult a physician. Do not combine with other decongestants or use if you have an allergy to any ingredients. May cause temporary discomfort; burning, stinging, sneezing or increase in nasal discharge.

Do not use:

· In children under 12 years of age
· If you have heart disease
· If you have high blood pressure
· If you have thyroid disease
· If you have diabetes
· If you experience difficulty urinating due to prostate enlargement
· if you are pregnant or nursing, unless directed by a doctor


Further information

Keep out of reach of children.
Do not use product if expired.
Do not use if plastic cap seal is missing or broken.
Store product at room temperature.

In case of overdose, call the Poison Control Centre or doctor immediately, even if you do not notice any signs or symptoms.

Medical ingredients

0.1% xylometazoline hydrochloride solution.

Nonmedicinal ingredients

Benzalkonium chloride, di and monobasic sodium phosphate, disodium edetate, Hypromellose, purified water, sodium chloride, sorbitol.