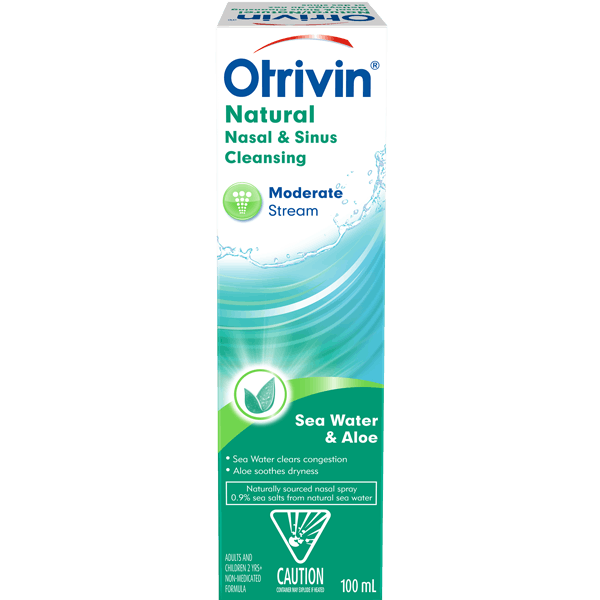 OTRIVIN NATURAL SEA WATER & ALOE

Moderate stream
Nasal spray
Relieve congestion naturally with the power of natural sea water. Created for moderate congestion, with 5% aloe vera to soothe and moisturize.
Otrivin Natural Sea Water & Aloe – Moderate Stream
0.9% sea salts from natural sea water
Aloe Vera provides added comfort to soothe your dry irritated nose, combined with the gentle relief of nasal congestion or a stuffy nose.
Otrivin Natural Sea Water & Aloe Moderate Stream is a preservative-free, isotonic, natural sea water solution that helps clear congested nasal cavities caused by a cold, allergies and upper respiratory infections.

It also contains 5% natural Aloe Vera extract which helps to moderate, soothe and moisturize dryness and irritation. The specially-designed applicator produces a gentle stream with fine micro drops which facilitates cleansing and moisturizing of the nasal cavities.

For adults and children 2 years or older.

1. Blow the nose if necessary
2. Insert nozzle into one nostril, tilt head slightly in the opposite direction
3. Spray a short burst to cleanse the nostril
4. Repeat in the other nostril
5. After use, clean and dry the nozzle and put the protective cap back on

Suggested use is 1-2 times per day, or as often as needed.
Due to its cleansing properties, use before using another nasal decongestant product.
The spray head is designed to fit the natural shape of the nostrils and limit the depth of insertion.
If cold symptoms persist or worsen, consult your doctor or pharmacist.
To avoid possible spread of infections, only one person should use each pack.

When to use

Otrivin Natural Sea Water & Aloe Moderate Stream is designed for the temporary relief of nasal and sinus congestion due to a cold, allergies and hay fever.

Precautions

Contents under pressure. Do not place in hot water or near radiators, stoves or other sources of heat. Do not puncture or incinerate container.

Further information

Keep out of reach of children.
Do not use product if expired.
Do not use if plastic cap seal is missing or broken.
Store product at room temperature.

Composition

Aloe vera extract, sea water and purified water.