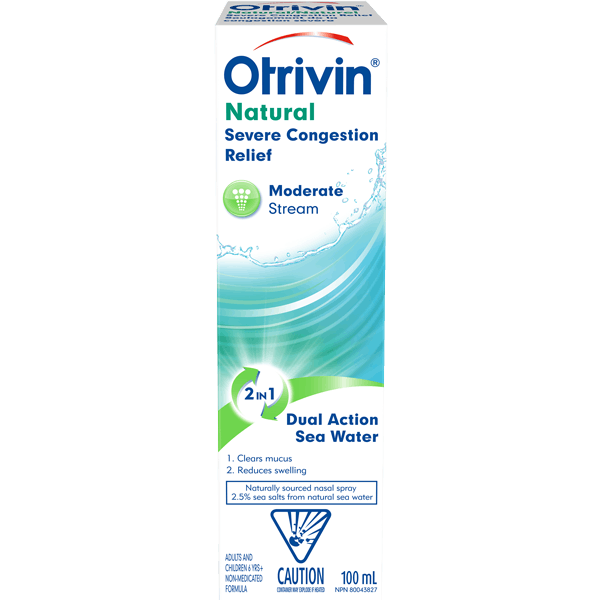 OTRIVIN NATURAL SEVERE CONGESTION RELIEF
Moderate stream
Nasal spray
Breathe better with dual action. Unblock and decongest your nose with this hypertonic, natural sea water spray to wash away mucus and reduce nasal swelling.
Otrivin Natural Severe Congestion Relief – Moderate Stream
2.5% sea salts from natural sea water
A natural, yet powerful nasal spray that relieves nasal and sinus congestion caused by colds, allergies or sinusitis.
Otrivin Natural Severe Congestion Relief contains a natural, preservative-free, hypertonic sea water solution that works in 2 ways to help open up blocked noses.

1. First, it loosens and thins mucus build-up so that it can be washed away.
2. Then, it reduces congestion & swelling in the nasal cavities better than isotonic nasal spray, by drawing water out of swollen nasal membranes, temporarily promoting nasal and sinus drainage, helping you to regain your ability to breathe.


For adults and children 6 years or older.

1. Blow the nose if necessary
2. Insert applicator into one nostril, tilt head slightly in the opposite direction
3. Spray 1 or 2 short bursts to cleanse the nostril
4. Repeat in the other nostril
5. After use, clean and dry the applicator and put the protective cap back on

Recommended use is 1-3 times daily, as required.
Due to its cleansing properties, use before using another nasal decongestant product.
The specially-designed applicator produces a moderate stream to facilitate deep cleansing of the nasal cavities. It is non-habit forming and causes no rebound effect.
Children should be supervised when using this product.
If cold symptoms persist or worsen, consult your doctor or pharmacist.
To avoid possible spread of infections, only one person should use each pack.

When to use

Otrivin Natural Severe Congestion Relief Moderate Stream is designed for the temporary relief of nasal and sinus congestion due to a cold, allergies and hay fever.

Precautions

Do not use if nose or ears are completely plugged or in the event of ear infections. You may experience a temporary tingling sensation if mucus membranes are highly irritated. Consult a health care practitioner if symptoms persist or worsen, if there is no improvement after you have tried to clear the nose, if the discharge is persistently thick and yellow or green, or if you have other symptoms of illness such as fever or ear infection.

If you experience discomfort, discontinue use and consult a health care practitioner.

Do not swallow.

Contents under pressure. Do not place in hot water or near radiators, stoves or other sources of heat. Do not puncture or incinerate container.

Further information

Keep out of reach of children.
Do not use product if expired.
Do not use if plastic cap seal is missing or broken.
Store product at room temperature.

Active ingredient

2.5% mineral salts (from sea water).

Non-medicinal ingredients

Purified water.